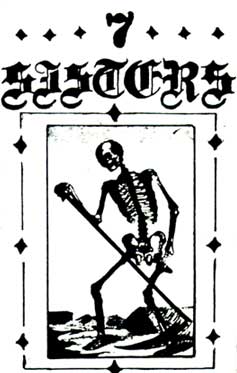 © Gary Crofts (Graphics Wizard) 1986


SEVEN SISTERS


Seven Sisters first started as a spin-off from (charity gig-playing) 60s cover band 'The Mix',
in which Adrian, Ric and John had been the guitarist, drummer and bass
player, respectively. Along with school mate Hugh on flute, they formed the first
incarnation of Seven Sisters - at that time (mid 1985), an anonymous covers/originals band
from Surrey (UK), with a Hawkwind and Here & Now song in their repertoire.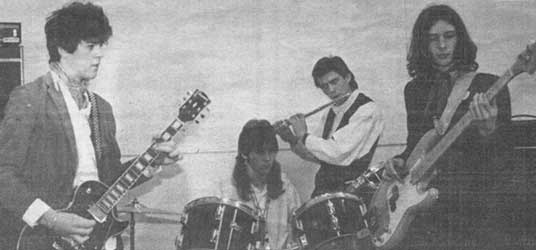 (From L-R: Adrian, Ric, Hugh, John) © 7Sisters Archive: 1986


The first outing of this inimitable quartet took them to a friend's party, at the 'White Hart'
public house, in Reigate. It was there, and at other future venues, that the band gained
notoriety for their mid-set 'Smoking Demon' antics - in which a mysterious 'caped avenger'
(otherwise known as 'Dim' [R.I.P.]) billowed intoxicating smoke in their general directions!

The band had already individually started to write their own material, with Adrian and John
taking the lead. They adapted two songs - 'War' and 'Win or Lose' - by former 'Mix' frontman
Hendrik Kleinsmiede, which caught the crowds by storm. These were rapidly followed by further
freshly-penned gems such as 'Last Words' and 'Feeling on my Heartache'. Both of these songs
(plus 'Win or Lose') made up the debut recording, released in January '86.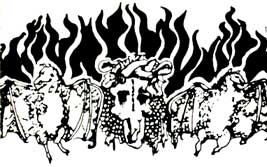 © Gary Crofts (Graphics Wizard) 1986


It was this EP, with graphic design by Gary Crofts (now known as 'Gnomad'), that led them from
strength to strength and they won a cross-Surrey audience. The crowds loved them, and they made
themselves known at venues such as Reigate Art College, The Dolphin (Kingston-on-Thames), The
Fetcham Riverside Club, and The Epsom Playhouse - where veritable chaos reigned once or twice...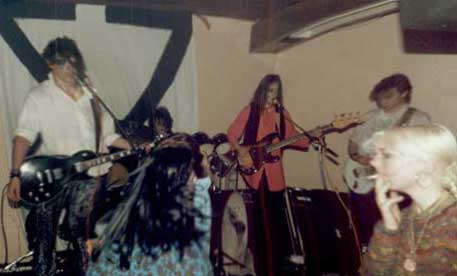 © 7Sisters Archive: 1986


By the time Seven Sisters had really made their mark on the local scene, Hugh had left the
band. His place was taken by Mike - another old-school-tie wearer - who played
rhythm guitar and occasional bass. Mike's addition supplied the band with more solidity,
and it was this combo who headlined the 'Bourne Hall' gig - to some few hundred
writhing followers, dancing the night away...

The same fearsome foursome stole the show when they supported the Gotham City Wreckers
at 'The Basement' club in Brighton, and they also took the prime slot at the Fetcham Riverside
when original headliners The Macc Lads were dropped - due to them being banned from Surrey!!

Other bands that the Seven Sisters performed alongside at that time were: Irish Moss Peat, The
Hunger, Reality Distortion, In From The Storm, The Grown-Ups, Shoot The Joker, The Manix,
Nirvana (no, not that 'Nirvana'), and of course Endless Party...



© Endless Party

© Endless Party

It was during this 'boomtime' that the band sharpened their political teeth, and started to
sow the seeds for future controversies. Following a rousing interview in a local paper, an
anonymous respondent had labelled them: " ...a bunch of middle-class hippies... ". True or
false, this statement probably played a facilitating role in the direction the band would take.

A second recording was made, at a rehearsal, sometime in mid-late '86. This rough-cut
featured most of the newer material, including songs like: 'Conscious Thought', 'January' (a
group composition), 'Magic Box', plus Hawkwind's 'Master of the Universe'. Full respect was
never paid to this back-room masterpiece, because - as sometimes happens with bands -
things progressed too fast, members imbibed different influences, messages got confused,
creative energy was mis-channelled... such was the case with Seven Sisters.

Unfortunately, for whatever reasons, the band unofficially split.

Three of them stuck together, ploughing a change of musical direction via the introduction
of other personalities, such as Chris (bass/guitar), Bruce (analogue synth),
Mothball (sax), and Lucy (bongos) - plus Emma, Nicky & Laura on backing vocals.

All this led to a far more improvised style; heavily influenced by the likes of Ozric Tentacles,
Pink Floyd, Here & Now, and Gong. Adrian, meanwhile, progressed into the world of Jazz.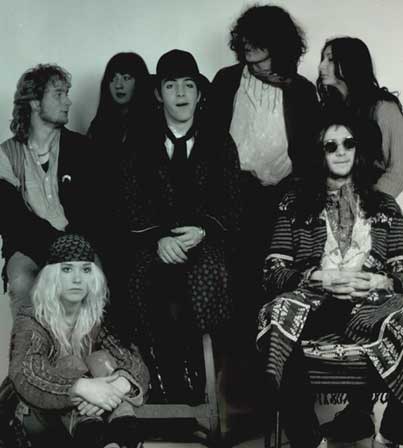 (From L-R: Mike, Lucy, Emma, Ric [with hat], Chris, John [with shades], Nicky) © 7Sisters Archive: 1987


Composition followed energy, listenability followed enthusiasm, generosity followed hedonism,
and the new 'metamorphosis' of Seven Sisters managed four live dates. The first, at Epsom
Playhouse, was only truly successful when Adrian re-took the stage halfway through the set
to win back a dampened and apprehensive audience; the gig at The Star, in Croydon,
returned solidarity to the ranks, until it was discovered afterwards that an expensive 'on-loan'
flute had been lost; the long-awaited NESCOT gig only ever happened in the Student's Union
office, due to official complaints from a certain major high street chemists about inappropriate
flyposting. Events such as these caused further spiritual bankruptcy to the group, and helped
to bang the few final nails into their coffin. It was the end of an era - although at least now
there were finally seven (or was it six? or eight?) sisters...

Sometime during the 1987 'summer of love', various members of Seven Sisters performed together
in the same space, at an outdoor party, somewhere around the Surrey/West Sussex border.
Adrian attended, featuring on 'cosmic-jazz guitar-synth trickery'! Some original songs were
almost played, almost forgotten...

In the end, Seven Sisters made their mark, and although it may have faded, it has not disappeared forever...

'Hawk' © 2003, 2012, 2013, 2014





© 7Sisters Archive: 1986





Click on this link to go to the RECORD SHOP:





Or this one to see more SEVEN SISTERS PHOTOS:

Or this one to go to the ALIAS JOHN RILEY TEMPLE:



© Copyright exists on this website and on all products listed herein.
Infringement of this copyright could lead to prosecution under international law.