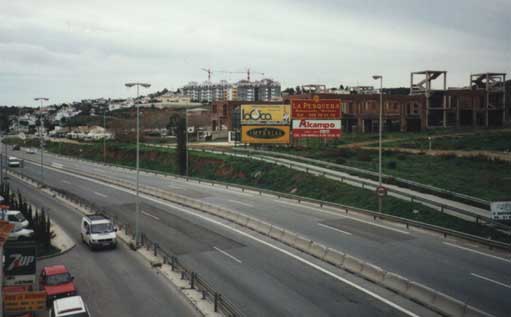 ESPANA POR FAVOR
A short travel story written by our proprietor - Gardner Man.
Spain, for me, symbolises a mecca for packaged-holidaymakers and middle-aged English ex-pats.
It also reminds me of Jill Dando and such, eulogising the Puebloblanco (literally - 'White Stones'
- Villages made from white stone) on the 'Holiday Programme' from British television. Therefore, I
was only half surprised when I first visited some English friends out there in January 2001. They had
moved to Sitio de Calahonda, midway between Malaga and Marbella, on the infamous Costa del Sol,
where many ex-crims go to disappear or to live up their retirement.

Over 500,000 British people live on the Costa, and many of them barely speak any Spanish at all
- because they don't need to. 'Dos cervezas por favor' is a favourite saying.

Against some odds, I enjoyed my stay in Spain. It was like England, but not. There were
billboards in English and Spanish, massive apartment blocks under construction and the sea
at your doorstep. Most days being clear days, one was allowed a view of Morocco in the distance;
Africa, just over there, a boat-ride away, amazing.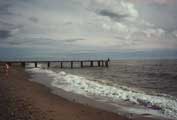 There are plenty of Pesetas being plunged into the Spanish economy from foreign hands. The
changeover to the Euro has meant that piles of spare cash has had to be invested in buildings,
businesses, anything to get rid of dirty money and place it into something legit.

My friends had been there a couple of months when I dropped by. I was collected from the airport
and taken back to their villa, in posh Calahonda - a kind of colonial haven for Brits, Germans, Dutch
and Danes; a couple of golf-courses, some supermercados and 'The Strip'. The latter being a line of
restaurants, bars and nightspots equivalent to some kind of tiny Torremolinos, or something like
that apparently. Actually, it was fairly peaceful and it seemed like there were no all-night clubs or
sleazy, drunkard-ridden dives. On the contrary, Calahonda was a nice place, for nice people. The
worst thing that could happen was a polite North African chap might try to flog you watches and
CD's from a brief-case, while you were eating or drinking or whatever you were quietly doing.
I ogled a few gypsy chicas however.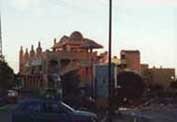 Spain was like France, only more southerly, and with a different language; from which I
wanted to pick up some phrases - I get a sense of turning dreams into realities when I interact
with an unfamiliar tongue - if you know what I mean!

The mode of transport that we mostly used was bus. This was because the couple with the car needed
it nearly every day for work, and hence bus or foot were the only options. We travelled to Mijas Costa
- a couple of miles eastwards down the coast. One of my companions bought a part for his computer,
we had lunch, pottered about a bit and returned home - on the articulated bus.

They had a swimming pool, but it was too cold to swim. It was 53 degrees (F) in the water as I
remember - not bad for January. The cold that I had picked up before I left England developed very
nicely once I had arrived. It made me feel a bit crap for most of my stay, but this was eased by
regular indulgences into the world of drink and other fairly local produce. I remember watching lots
of cable TV (in English) and videos (again 'en Inglese') about aliens and comedy golf-superheroes - great!

We went for a couple of walks along the beach and round Calahonda. One time we ended up at the
Marina, which was apparently a smaller version of Puerto Banus - a 'Sean Connery-style' enclave
further up the coast at Marbella. Some nice boats and expensive eateries.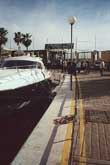 Three of us drove into Malaga one day, in the Land Rover. We parked at 'El Corte Ingles' and wandered
around the backstreets, stopping off for a very tasty lunch in a plaza - lots of fish. I took photos of the
Cathedral, which has an uncompleted tower - because the money had been diverted into the American
War of Independence, against the British.

The two other lads bought a bass amplifier so that we could have a proper 'jam' in their converted
basement, where I was staying - with the continual inevitability of giant spiders leaping out on me.
One of my companions was starting work at 'Club Naranja' (Club Orange), which is a kind of social
centre for retired Brits to re-invent their lives.







That was Spain: land of new opportunities, land of warmth when it is cold in England, land of the
ex-pats.

I recall now, that the Costa crept into me as I entered the plane at Gatwick. I fell prey to an
extrovert Jersey family on their return home to 'Villa el Golf Course', post-xmas. They surrogated me
and eased me gently into 'del Sol'. I saw what it was to survive out there: slightly mad, slightly too
much money, slightly more freedom to do what one wants - without getting hassle from the authorities.
Espana por favor!


Photographs and Text © Gardner Man 2001




Click here for the SKETCHES OF SPAIN page:





Or here for the ART page:



© Copyright exists on this website and on all products listed herein.
Infringement of this copyright could lead to prosecution under international law.