Merchandise
Index
Contents
Highlights
Recordings
Reviews
Events

| Version Francais



MERCHANDISE
Nice things for sale: You buy...
(Images not to scale)


As recommended by Mike Russell (Artist & Writer), who says: "Your merchandise is quite fantastic
- they would certainly make ideal gifts for a loved one, spouse or relative in a care home.
They would also be ideal prizes on a game show such as Sale of the Century."


1) "THE SEAGULL JESUS XMAS CARD"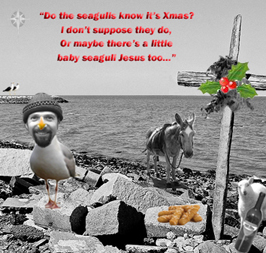 At 9.4cms (W) x 8.9cms (H) and printed on good quality 200gsm white card, this funny but poignant manufactured image makes an ideal seasonal greetings card.
(£1.20 plus P. & P.)


Baby Ginge (Songwriter & Recording Artist) says: "Christmas is now complete with the
'must-have' accessory of the season - the Mini Moth Backpack!"

2) "THE JOHN ZONN MINI MOTH BACKPACK"




We are very proud to announce the birth in the East Midlands (from inside one of Arkwright's many mills) of the 'John Zonn Mini Moth Backpack'!! In the words of its
maker, Tracy Boness, these quality items: "...are UK-made and not from some foreign country where three year old kiddies make them for 3p a go!" The backpack
is seen here modelled by a butterfly "as they are more outgoing and confident!".
Dimensions are 4cms x 7cms and the price for a single backpack is £2.50 (plus P&P), with discounts for multi-buys!


3) "THE SCHNEIDER-ZONN GLÜCKWUNSCHKARTE"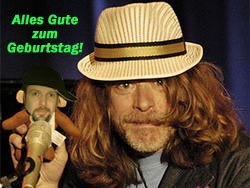 At 8.8cms (W) x 6.6cms (H) and printed on good quality 200gsm white card, this colourful and funny manufactured image makes an ideal birthday celebration addition.
In fact, you could hardly find a more economical (£1 plus P.& P.) and jovial card anywhere, and compared to other similar gift items this one contains the added bonus
of capturing the visual essences of two of your favourite musical maestros - Messrs. Zonn (in finger-puppet form) & Schneider (in human 'Helge' form) larking about!
Optionally, it could be tailored to meet the needs of your specific occasion, eg: 'Christfest', 'Neues Jahr', usw...


4) " 'ADIEU BELLA' - PROSE SHEET "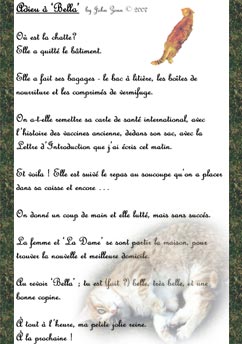 At 21cms (W) x 29.7cms (H) and printed on good quality copier paper, this could be your future;
collecting printed sheets of handwritten prose/poetry. At £2 plus P.& P. it's a snip!



PAYPAL IS HERE!
Payment is accepted via PayPal (we'll send you a direct link in an email and
also ask a small handling surcharge) or by Cheque/Postal Order/Bank Transfer.
Main currency is Sterling, but Euros & U.S./Canadian Dollars are
also accepted (with a small exchange surcharge).
Please contact us to arrange Postage & Packing fees.
- Thank you for your custom -




All enquiries to:
zonnjohn(at)gmail.com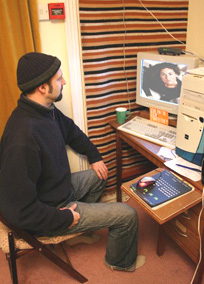 "The spirit of Rosina da Silva (aka Minnie Driver) appears on Zonn's computer screen..."


Also, there is music to hear and spend money on at the RECORDINGS page!


Learn more about The Record Label.

Bandcamp - Vimeo - iTunes - Amazon - NetEase - ClaroMusica - Deezer - 7Digital - Anghami
- MySoundPoster - Soundcloud - Tidal - Spotify - Facebook - KKBox - Amazing Tunes - Google Play

John Zonn is supported by HELP MUSICIANS UK



©2008-2019 - Copyright